My first rant subject...
THE BOWL CUT.

It looks horrible on everyone, yet it seems to be appearing everywhere.
Is it because of Seo In Young on We Got Married?
I really hope not.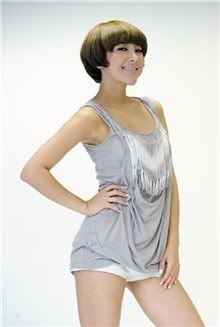 credit to the Seo In Young gallery at Asian Fanatics
Now she has hair in this "water fountain" style
cap taken by me
Omg I hope to dear god this trend does not catch on
It greatly amuses me that she looked a lot better before her nose surgery.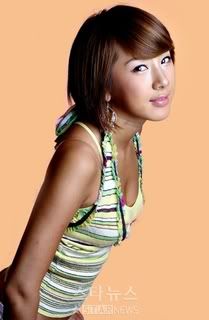 credit to the Seo In Young asianfanatics gallery

Leader G-Dragon of Big Bang sported this horrible hairstyle a while back.
Did this trend-setter start this?
At least his hair's back to normal now!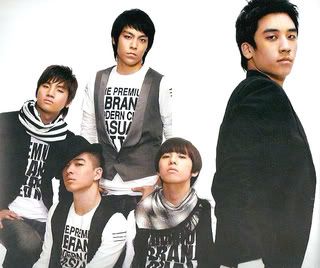 New SM group Shinee's maknae, TaeMin, also has this horrendous hairstyle.


He's such a cutie without the weird hair!

Sweetie Hwichan of Battle unfortunately has a hideous bowl cut
along with another subject of my rants.


second from left


credit to Battle thread at soompi



My other rant...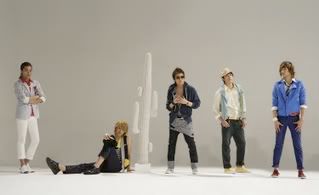 left to right: Lio, Chris, Taehwa, Hwichan, Ryu
credit to Battle thread at soompi



HIGHWATERS??!!!!


WHY????!!!!
OMG PLEASE DON'T LET THIS CATCH ON!!

But then...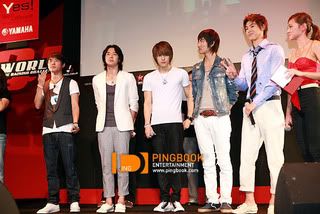 credit to DBSK photo thread at soompi



Max...Yunho......why?.....



left to right: Park Jung Min, Kim Kyu Jong, Kim Hyun Joong, Seo Young Saeng, Kim Hyung Jun


credit to z-degrees.net picture thread



I believe SS501 wore these idiotic pants
during their performances but I coouldn't find any...
but Kyu Jong's pants on this single...ahh...

I swear..if that catches on anymore....

My last rant is on something incredibly common among girls
but I've ALWAYS disliked it, right from the start.


before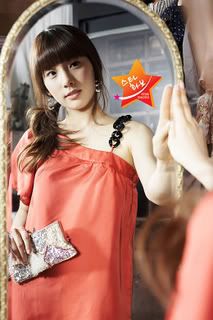 after

Yeah, that's right.
I hate blunt, straight cut bangs.
I think only a few people can pull them off, like..



Ye Eun of Wonder Girls (far left)pulls it off so well.
It looks really good on her but now her hair looks terrible.
But Sun Mi and Sun Ye? They need to grow them out or push 'em to the side.

Speaking of Wonder Girls..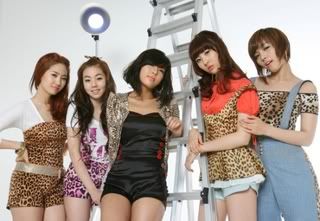 credits to wondergirls.wordpress.com



I lovelovelove YooBin and Sun Ye's new hair..
but...the leopard print really has to go.
Especially Sun Ye's gross overall pants.

Another trend catching on that I'm not quite sure about..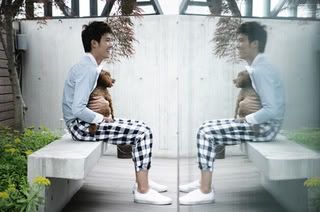 credits to a Jae Hee photo thread on Soompi



Man capris?
Manpris?
Maris?
Maybe?
I'm not quite sure how I feel about these yet, but I've been seeing it a lot.
I absolutely adore him but I gotta admit, he has an eccentric taste in style,
so ignore his shirt.
Or are these just highwaters?...


Oh and just to add on,
if you haven't watched the Come to Play, We Got Married special....
GO WATCH IT!!!
It's hilarious!
But HwiJae and YeoJung aren't there.
Anyways go watch it! Really, it'll make you laugh like no other.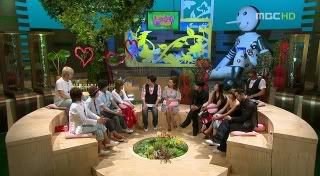 Alex and ShinAe!!


Another Seo In Young and Crown J moment haha



caps taken by me



-----edit-----
I just found this picture on soompoi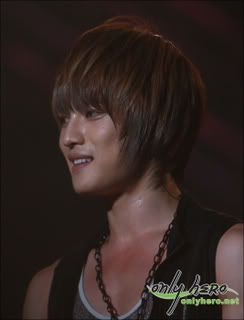 AHHHHHHH WHY???!!!