So the episode starts off with the HwiJae and YeoJung couple aka Cradle Robber and Ivy's twin.
Hwi Jae's feeling pressure from being with all girls so when the doorbell rings...his relief is HILARIOUS.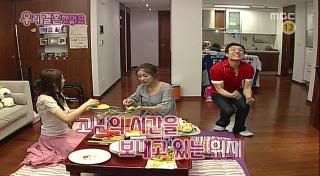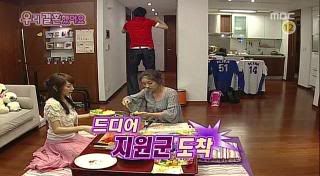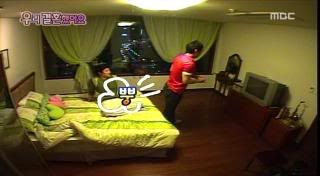 and once again...he farts..on national television.
Did he forget he was being filmed??!!! Wow. Hilarious but weird.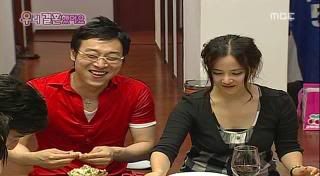 This couple hasn't really developed much yet, I'm curious what direction it's going to go.

Now to Hyun Joong and HwangBo. Hwang Bo's unnis have arrived and Hyunjoong's feeling awkward.


He has such a cute smile! But what's with his weird jacket??!!

This scene absolutely cracked me up.
Hwangbo and Hyunjoong shook hands and then one of Hwangbo's unnis was like
"Was that your first skinship?"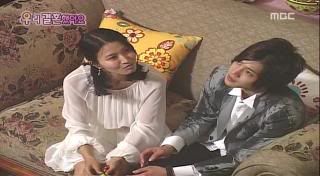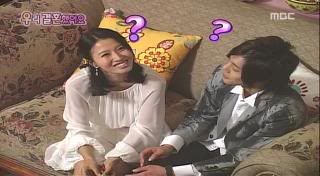 HAHA!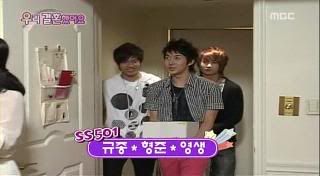 Then Hyun Joong's boys arrive, minus Jung Min. (Hyun Joong's the leader of boyband SS501.)
And they are greeted with this.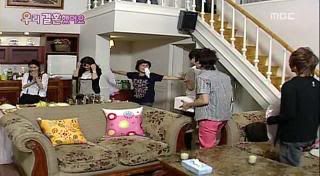 Kyu Jong, Hyung Jun, and Young saeng were nice enough to bring a present. It's "the thing that Hyun Joong likes the most."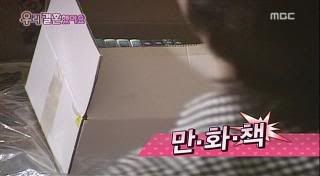 Yeah..they got them manga as a wedding gift.

Hyun Joong's reaction:



Unnis' reactions.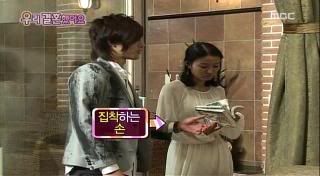 This part was so funny. HwangBo's flipping through the books and Hyun Joong has his hand out the whole time to claim back his precious mangas. Ah, this is where their age difference blares out.

The SS501 is feeling a bit burdened and scared of hanging out with some ajummas.
They go upstairs to the bedroom and talk. You can see how different Hyun Joong is with them compared to early with just HwangBo and her unnis.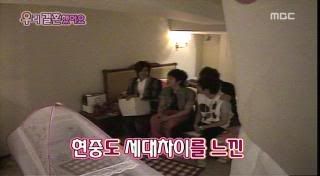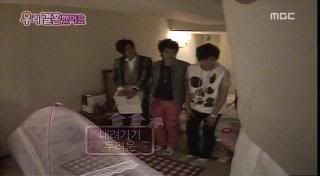 Back at HwiJae and YeoJung's place. They told this one guy that there was an American girl named Sunny coming. He was actually about to leave but was curious about this girl and stayed. So as the girl comes in, another guy puts a pillow over his face.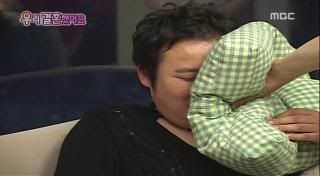 The girl sits down next to him. The pillow is removed. The guy looks to his left...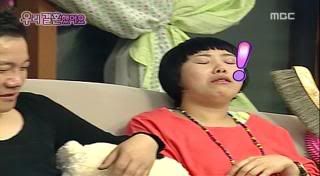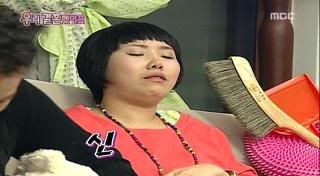 It's Shin Bong Sun!! One of the funniest girls ever. He's..not..happy..lol.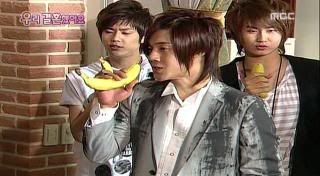 Back with the kid and the general, Ss501 is beautifully serenading Hwangbo with bananas. They end with Hyun Joong saying "I love you, Hwangbo." Which results in..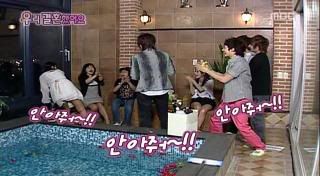 "Hug, hug, hug." The show leaves them in an awkward situation. Will they hug or will they not?

So Seo In Young's pretty pissed at Crown J (as usual) because she thought some hot idol guys were coming over, not two ajusshis. Anyways, they go tour the apartment, the first stop is the shoe cabinet.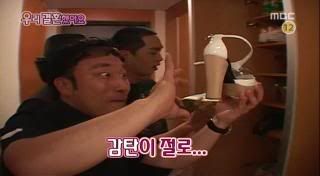 Then the ajusshis try on Crown J's necklace.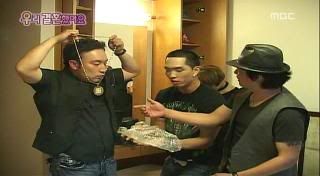 If you remember from last week. Neither Crown J nor Seo In Young wanted to cook dinner so they ordered food and planned to play it off as though In Young cooked it all. The plan goes well.


The ajusshi's really enjoy the food and keep complimenting In Young.

At Solbi and Andy's place, Chae Yeon and one of the WGT MC's arrive.



Okay, Chae Yeon kinda pisses me off here. All she can talk about is how jealous she is of Solbi. When Andy goes to the kitchen to open a wine bottle, she follows him there.


Everyone was like...what is she doing?
Then Andy wraps one of those lettuce things with beef in it. Solbi's sitting to his right...but instead he turns to his left and feeds it to....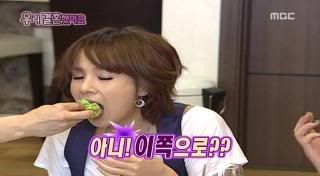 Huh.

Crown J and InYoung's plan takes a turn. The ajusshi's start joking around and move things onto a plate and are like "Wow when you do this, it looks like a delivery!"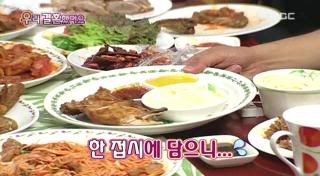 As they crack up, Crown J and In Young nervously crack up too.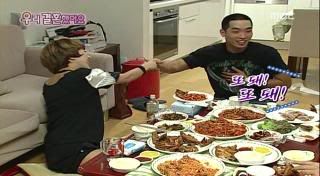 Then Crown J tells them the truth.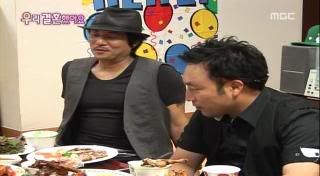 D..i..ss..a..point...ment....

Andy and Solbi do a love shot.
Chae Yeon's reaction: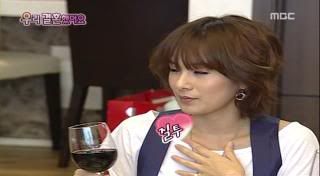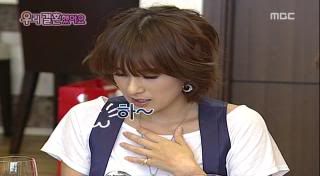 She takes a sip and comments that she feels like feeling soju instead.
This girl...damn, seriously? She goes to a "wedding celebration" and brings the mood down like that? Why can't she just be happy for Solbi and if she really feels that bitter and sad, hide it!

Then So Yoo Jin arrives...and Hyung Don's manners make a total 180.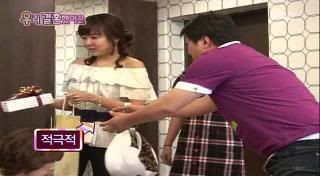 He tries to impress her by pouring wine for her like they do at restaurants.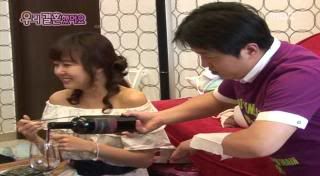 Then proceeds to spill it all over her.

As Hyung Don is leaving, he all of a sudden starts to give everyone a hug goodbye.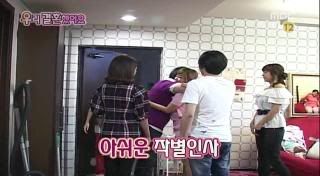 Then as he turns to hug Yoo Jin...


The girl is going to get married in a couple of months so totally understandable.

The ajusshis have asked (actually kind of ordered) In Young to make some soup.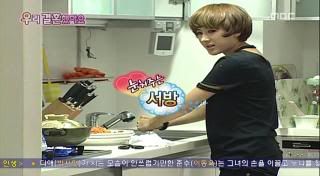 She innocently asks Crown J what he's doing. He replies he's talking to his hyun-nims..death glare from In Young.

Suddenly..


In Young feels embarassed and Crown J realizes how hard she's working.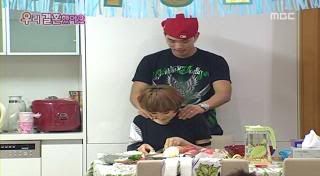 After everyone's done eating, Crown J and In Young perform their song "Too Much" (Which I abosolutely adore.)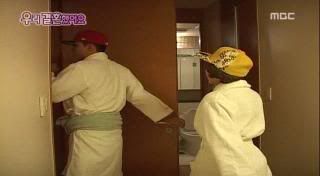 In Young's finally having some fun.

Someone brought a cake for Solbi and Andy. They light it up and turn off the lights. They want Andy to kiss Solbi and prepare the camera.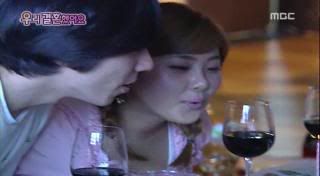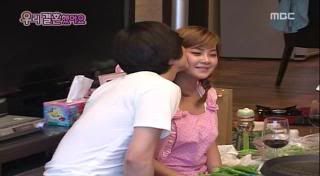 Awww cute.

At Crown J and In Young's place, they're all dancing and being silly. It's hilarious.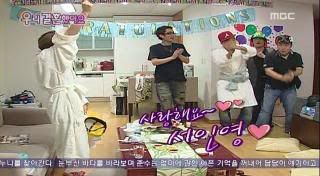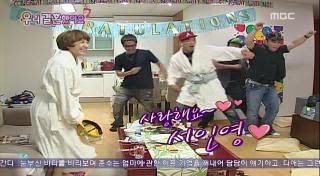 Then all the ajusshi's dress up in funny costumes and bring the funniness up another notch.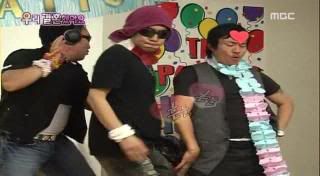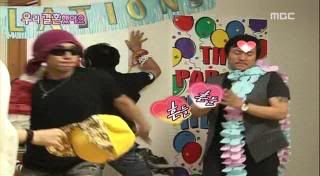 In Young is cracking up the whole time.



Then...the ring scandal.
Solbi kept avoiding the subject with Andy..why?


Because she LOST IT!

Andy's reaction..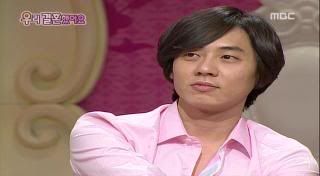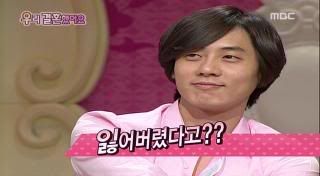 Ouchhhhhhhhh...

In the previews for the next episode...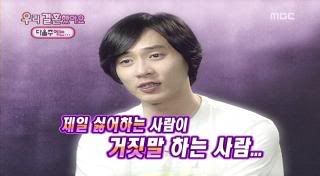 "The person I hate the most is a person who lies"

And then...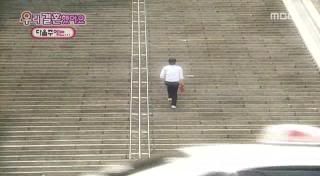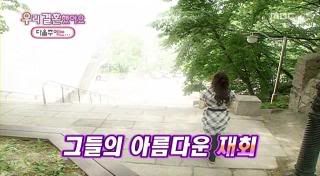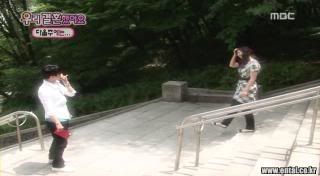 I Love love love how they filmed that on the stairs where the final scene in My Lovely Kim Sam Soon was. I have the next episode downloaded but I probably won't have it up till tomorrow.